¿Por qué retirarse en Panamá? / Why is Panama the best place for retirement?
El país cuenta con uno de los programas de beneficios más atractivos para el retirado a nivel mundial. Y no sólo es para los panameños, sino que aplica también para los extranjeros residentes. Acceder a los beneficios no es complejo. Sólo basta tramitar la visa de residencia y  listo. ¡A disfrutar! / Panama has one of the most attractive benefits programs for retirees in the world. And it does not only apply to Panamanians, but also to expats. Having access to these benefits is simple; you only need to process the residential visa and you are done!
Por más de diez años, Panamá ha liderado los rankings de retiro de prestigiosos medios internacionales que destacan los inmensos beneficios que el país entrega a nacionales y extranjeros residentes -sin distinción- al alcanzar la edad de retiro. / For over ten years, Panama has been leading the retirement rankings made by prestigious international publications that highlight the immense benefits that the country offers nationals and foreign residents – without distinction – when reaching the age of retirement.
La gran comunidad de 'Expats' viviendo en el país puede disfrutar de estos beneficios por igual que un local. Con el simple hecho de poseer su visa de residencia. Pero además, existen varias razones por las cuales, los retirados han hecho de Panamá, su centro de operaciones. / The large 'Expat' community living in the country can enjoy these benefits as much as locals with the simple fact of having a residential visa. Furthermore, there are various reasons why retirees have made Panama their center of operations.
1. Probablemente; el mejor programa de beneficios para retirados del mundo / Probably, the best benefits program worldwide for retirees.
No. No es un mito. Es una realidad. El programa de pensionados (que es Ley de la República desde 1986) es uno de los más grandes imanes para los retirados que están buscando vivir bien en un país que lo tiene todo. / No. It's not a myth. It's a reality. The pensionado program (which has been a Law since 1986) is one of the main attractions for retirees that are looking to live in a country that has it all.
Y el beneficio es vigente para toda mujer (55 años) u hombre (60 años) panameño o residente legal en el país.  El retirado puede disfrutar de una serie de descuentos en entretenimiento, turismo, gastronomía, servicios públicos, gastos médicos, etc. Aquí le indicamos algunos de estos beneficios. / And the benefit is valid for every Panamanian and foreign resident woman (55 years old) and man (60 years old) in the country. The retiree can enjoy a series of discounts in entertainment, tourism, gastronomy, public services, medical expenses, etc. Here we present some of these benefits:
50% de descuento en entretenimiento como cines, teatros, deportes y demás espectáculos públicos. En los últimos años a Panamá han llegado shows de nivel mundial como el Cirque du Soleil. / 50% discount in entertainment such as movie theaters, theater showings, sports and other shows. In the last few years, Panama has welcomed world class presentations such as Cirque du Soleil.
30% de descuento en tarifas de autobús, metro, ferry y tren. El país es el único país centroamericano con un sistema de metro en la ciudad. Actualmente opera con dos líneas y están proyectadas varias más para inaugurar en los próximos años. / 30% discount in bus, metro, ferry and train fares. The country is the only Central American country with a metro system in the city. It currently has two lines and more are projected to be inaugurated in the next few years. 
25% de descuento en pasajes aéreos (de procedencia nacional, con punto de origen nacional). Este descuento aplica en las oficinas de venta de las aerolíneas, en cualquier temporada del año. Ir y venir de Panamá nunca fue más fácil. / 25% discount on airfare (of national origin). This discount applies in airline help desk centers during any season of the year. Coming and going from Panama has never been easier.
30% a 50% de descuento en estadías en hoteles /

30% to 50% discount on hotel stays
15% a 25% de descuento en restaurantes /

15% to 25% discount in restaurants.
Descuento de 15% de la cuenta total por servicios de hospitales y clínicas privadas. /

Discount of 15% on the total bill of hospital or private clinic services
Descuento del 20% del valor de los medicamentos en farmacias. /

Discount of 20% of the value of drugs in pharmacies.
Descuento en los servicios médicos, tales como: consultas, odontología y optometría, mismo que dependerá de cuál de los servicios antes descrito se utilice. / Discount in medical services, such as: consults, odontology and optometry; the discount will depend on which of the mentioned services was used.
Descuento de 20% del precio de todas las prótesis, así como de todos los aparatos y accesorios de ayuda. /

20% discount for all prosthetic prices, as well as all devices and accessories for disability. 
Descuento de 1% en la tasa de interés en los préstamos /hipotecarios de vivienda para su uso propio. /

1% discount in interest rates in home mortgages for personal use. 
La congelación del impuesto de inmuebles. /

The freezing of property tax.
Exoneración del pago de la tasa de valorización. /

Exoneration of payment of the appraisal rate.
Descuento de 25% del consumo mensual de energía eléctrica. /

25% discount on monthly electrical energy consumption. 
Descuento de 50% del impuesto o tasa de aeropuertos. /

50% discount on tax or airport fees.
Descuento de 25% del cargo fijo por servicio de telefonía. /

25% discount on the fixed charge for telecommunications services.
Descuento de 25% de la tarifa por consumo de agua, de entidad pública o privada. /

25% discount on the rate for water from private or public entities.
Además, los pensionados extranjeros tienen derecho a dos grandes beneficios / Furthermore, foreign retirees have the right to two important benefits::
Una exención única de impuestos sobre la importación de enseres domésticos (hasta $10,000) /

Unique tax exemption on the import of domestic equipment (up to $10,000).
Una exención tributaria cada dos años cuando se importe o (aún mejor) se compre un automóvil localmente. /

Tributary exemption every two years when importing or (even better) buying a car locally.
Saque cuentas. Vivir en Panamá presenta ventajas económicas insuperables frente a otros países de la región y el mundo. Pero sigamos, el país tiene muchas más ventajas para tomar la decisión. / Living in Panama presents economic advantages unsurpassable by other countries in the region and the world. But let us continue, the country has many more benefits.
2. Un Hub aéreo de clase mundial / World-Class Travel Hub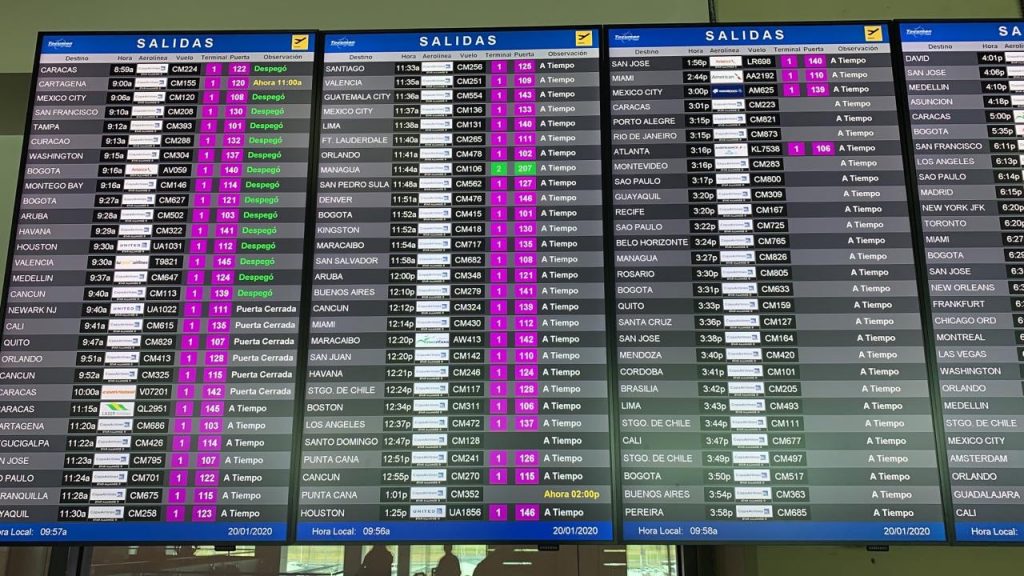 Con la inauguración de la Terminal 2 del Aeropuerto de Tocumen, Panamá se consolida como el punto más conectado de la región. / With the inauguration of the second Terminal in the Tocumen Airport, Panama consolidates itself as the highest connected point in the region
En el país operan 29 aerolíneas comerciales, que realizan más de 400 vuelos diarios a más de 89 destinos de 39 países de América, Europa y Asia, con un movimiento superior a los 16 millones de personas que transitan diariamente el aeropuerto de Tocumen. / Over 29 commercial airlines operating in the country with over 400 daily flights to 39 countries in America, Europe and Asia, with a flow superior to 16 million people that pass through Tocumen Airport on a daily basis.
Los destinos con mayor movimiento son Miami, Bogotá, Cancún y La Habana. Mientras que los sudamericanos son los mayores usuarios de la terminal con el 41%, luego le siguen los norteamericanos con un 30%, caribeños 13%, centroamericanos 11% y europeos con un 8%. / The destinations with the highest popularity are Miami, Bogotá, Cancún and Havana. South Americans are the main users of the terminal with 41%, followed by North Americans with 30%, Caribbean 13%, Central American 11% and 8% European.
Tocumen ha sido reconocido por varias organizaciones especializadas como el aeropuerto mediano con la mejor tasa de puntualidad a nivel mundial (aproximada de 93%), al igual que la aerolínea bandera del país, COPA, reconocida como la más puntual del mundo. / Tocumen has been recognized by multiple organizations as the medium sized airport with best punctuality worldwide (approximately 93%), as well as the airline that bears the country's flag, COPA, recognized as the most punctual airline in the world.
3. Clima / Best Weather
El clima en Panamá es excepcional. Con dos temporadas bien marcadas, la zona está bien alejada del 'Callejón de Huracanes', por lo que más allá de unas fuertes lluvias, la posibilidad de una catástrofe climática es baja. / The weather in Panama is exceptional. With two main seasons, the area is far from the "Hurricane Alley", thus the probability of a climatic catastrophe, apart from heavy thunderstorms, is very low.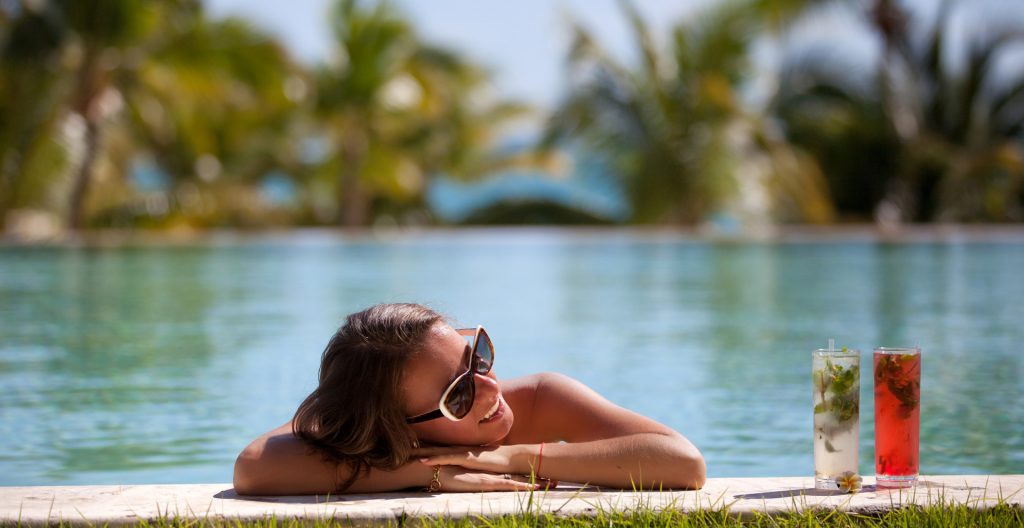 Además, dependiendo de la zona seleccionada, las temperaturas se van volviendo mucho más refrescantes. / Additionally, depending on the selected area, the temperatures are increasingly more refreshing.
Se caracteriza por ser tropical: es bastante caluroso a lo largo del año, principalmente en las zonas costeras y las partes más bajas. Pero como bien saben los lugareños, la época de lluvia se encuentra regularmente entre los meses de Mayo a Noviembre. / The weather is characterized as tropical: it is very hot throughout the year, mainly in coastal areas and the lower parts of the country. But as locals well know, the rainy season can be regularly found between the months of June and November.
Por esa razón, para aconsejar un tiempo ideal para visitar Panamá, decimos que debería ser entre Diciembre y Mayo: las posibilidades de lluvias altas capaces de arruinar un día de paseo son prácticamente nulas. / For this reason, the best time to visit Panama would be between December and May: the likelihood of rain capable of ruining a good day is practically non-existent.
La temperatura promedio de Panamá se mantiene alrededor de los 29 grados centígrados a lo largo del año. Esto tiene la ventaja que no será necesario llevar grandes abrigos ni aún en las zonas más altas, como el Valle de Antón y Boquete, donde la temperatura puede ser un tanto más fresca. / The average temperature in Panama is around 29 degrees celsius all year long. This brings with it the advantage that it will not be necessary to bring heavy coats even for the higher areas such as Anton Valley and Boquete, where the temperature can be colder.
Panamá puede ser un gran refugio durante las temporadas invernales en el norte o en el sur. / Panama can be a great refuge during the North or South winter time.
4. Estabilidad política y económica / Political and Economic Stability
Desde la devolución de Canal de Panamá, en 1999, el país ha crecido constantemente hasta convertirse hoy, en el país con el mejor PIB Per Cápita de todo Latinoamérica. / Since the Panama Canal was relinquished in 1999, the country has grown constantly until becoming the country with the best GDP per capita in all of Latin America.
¿La receta? Una posición geográfica privilegiada, una economía dolarizada (desde 1903), más de tres décadas de estabilidad política continua, un ambiente acogedor para compañías extranjeras al igual que inversionistas, una plataforma de logística de primera clase, y por supuesto: el Canal de Panamá. / The recipe? A privileged geographical position, a dollarized economy (since 1903), several decades of continuous political stability, a welcoming environment for foreign companies and investors, a first class logistics platform and of course: the Panama Canal.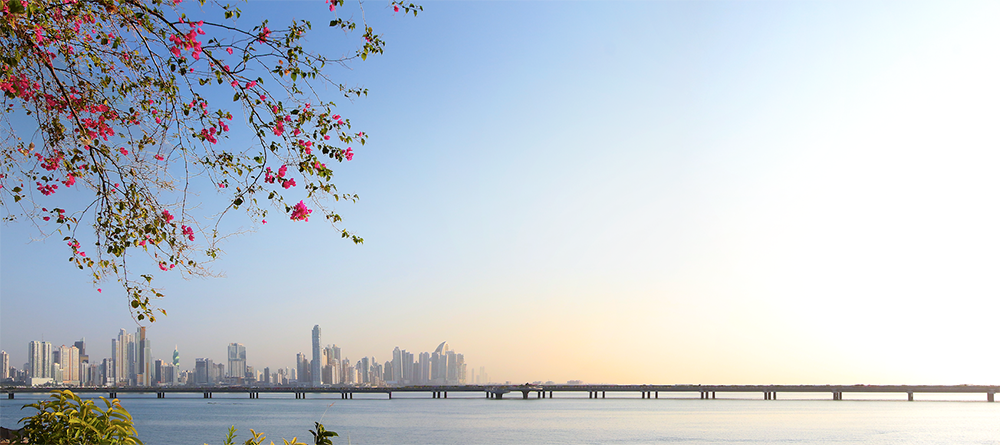 Porque mientras el resto de economías de la región cimentan su desarrollo en la dependencia de las materias primas (minería, agricultura, entre otras) más  del 75% del Producto Interno Bruto (PIB) se deriva de servicios de clase mundial. / While other economies in the region cement their development depending on raw materials (mining, agriculture, and more), over 75% of the Internal Gross Product (IGP) in Panama is derived from world class services.
Para diversificar la matriz productiva y dejar de lado la dependencia del Canal, el Estado está ofreciendo incentivos a inversionista extranjeros. Para ello existen más de 40 leyes y decretos especiales para la importación, en materia de impuestos y de operación. / To diversify the productive matrix and set aside the dependency on the Canal, the State is offering incentives for foreign investors.For this, over 40 laws and special decrees regarding taxes and operations were created for importation.
Algunos sectores que disfrutan de estos incentivos son el turismo, zonas procesadoras de exportación, minería, reforestación, seguros y reaseguros, agro-industria, zonas libres de petróleo, infraestructura y construcción. / Some sectors that enjoy these benefits are tourism, exportation zones, mining, reforestation, insurance and reinsurance, agricultural industry, petroleum free zones, infrastructure and construction.
Por eso a pesar de la convulsionada agenda social y económica de la región Panamá continúa su senda de crecimiento sostenido. Ese que atrae a inversionistas que están viendo al país, como el lugar ideal para vivir. / Due to this, regardless of the economic and social upheaval in the region, Panama continues its path to sustained growth. This is one of the factors that attracts investors who look at Panama as the ideal place to live in.
5. Salud de Clase Mundial / World Class Health
Panamá se está transformando rápidamente en un centro de turismo médico en la región. Esto por la calidad de sus servicios, el nivel de los profesionales, la excelente infraestructura y la buena relación que existe entre precio/tecnología/servicio. / Panama is rapidly becoming a medical tourism destination in the region. This is due to the quality of services offered, the level of professionals, the excellent infrastructure and the great relationship between price/technology/service.
Es usual encontrarse por las calles a más de alguna estrella famosa internacional visitando algún restaurante o sitio turístico después de haber ingresado al país para algún control o tratamiento. / It is common to find an international celebrity in the streets visiting a restaurant or touristic location after having entered the country for treatment or follow up.
Entre las especialidades médicas más solicitadas por los turistas, se encuentra la Neurocirugía, los tratamientos con células madre y las cirugías mínimamente invasivas, además de los servicios odontológicos. / The medical specialties that are most coveted amongst tourists are Neurosurgery, stem cell treatment and minor surgeries, as well as dentistry services.
Clinícas cómo Paitilla o Punta Pacífica cuentan con la mejor tecnología disponible y cumplen con todas y las mejores certificaciones del mundo. Además en el corto plazo se espera la incorporación de dos modernos hospitales privados. / Clinics such as Paitilla or Punta Pacífica carry the best available technology and fulfill all the best certifications in the world. Furthermore, it is expected that in the short term two more private modern hospitals will be incorporated.
Muchos doctores panameños son graduados en las mejores universidades de EE.UU, por lo que el idioma no es problema de comunicación. / Many Panamanian doctors have graduated from the best universities in the United States; thus the language barrier is non-existent.
6. Seguridad / Security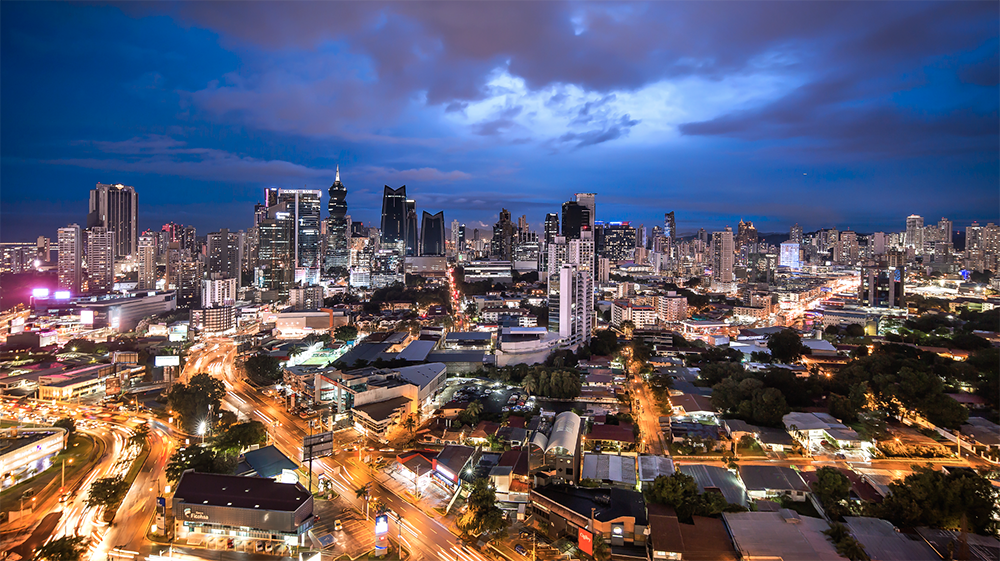 Panamá presenta uno de los índices de criminalidad más bajos de la región. Y para quienes viven aquí, se respira un aire de tranquilidad. Zonas como San Francisco, Coco del Mar, Santa María o Costa del Este son bastante seguras y es muy poco usual ver episodios de violencia como asaltos o robos. / Panama presents one of the lowest criminality rates in the region. For those that live here, you can breathe an air of tranquility. Areas such as San Francisco, Coco del Mar, Santa María and Costa del Este are very safe and it is highly unlikely to witness any episodes of violence such as assaults or robberies.
Lo importante, al igual que en cualquier parte del mundo, es tener en cuenta ciertos consejos como no tener una actitud desprevenida, saber los lugares donde estamos caminando y no exhibir objetos de alto valor si no es necesario. Una cosa que está clara es que en Panamá no se debe estar paranoico por lo que 'pueda'  pasar. / The important thing to keep in mind, as much as you would in any other city in the world, are tips such as not having a carefree attitude, knowing which places you are walking into and not exhibiting any valuable objects unless necessary. One thing that is clear is that in Panama there is no need to be paranoid about 'what might happen'.
Las zonas del interior como Coronado, Buenaventura, El Valle, Boquete son zonas bastante seguras también. / Areas outside of Panama City such as Coronado, Buenaventura, El Valle, Boquete are quite safe areas too.
7. El mejor café del mundo / The best coffee in the world
La tradición cafetalera de Panamá es centenaria. Y el centro de esta tradición es la zona de Boquete y Volcán, en las faldas del volcán Barú, zona conocida también como el huerto del país. / The coffee tradition in Panama is centennial. And at the center of this tradition are places like Boquete and Volcán, at the outskirts of the Barú Volcano, area also known as the country's orchard.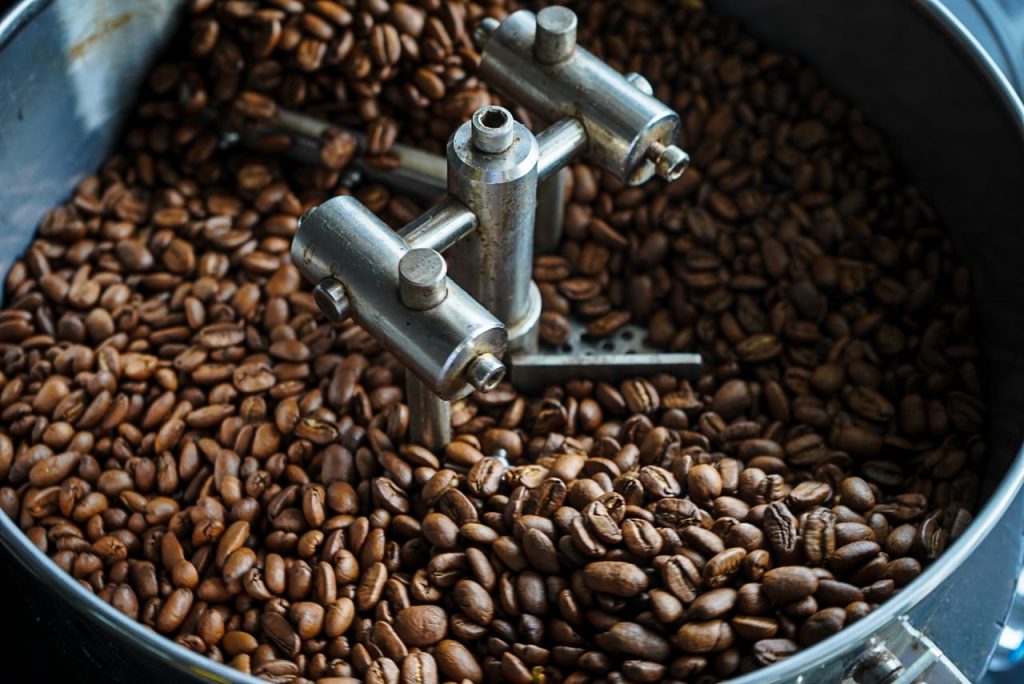 Hace poco más de 20 años, una serie de extraños sucesos volcaron la mirada del mundo del café hacia Panamá. La aparición de la variedad Geisha en las plantaciones cafetaleras del istmo se transformaría en el nuevo producto estrella del país. / For over 20 years, a series of unlikely events turned the coffee world's eye towards Panama. The appearance of the Geisha variety in coffee plantations in the Isthmus would become the new star product in the country.
La precipitación regular y la altitud apropiada son un factor clave para el éxito de la producción de café: los ricos nutrientes que se encuentran en el suelo volcánico, la abundante humedad y la cobertura de nubes nutren las plantas de café que producen granos de alta calidad que desarrollar un sabor rico y profundo. / Regular precipitation and the appropriate altitude are key factors in the success of coffee production: rich nutrients found in volcanic soil, abundance of humidity and cloud coverage nurture the coffee plants that produce high quality grains with rich and profound flavors.
Y es así como año a año los precios del grano de café de especialidad se han ido rompiendo hasta llegar hoy a pagar  USD 1029 por una libra de granos de Geisha de la Finca Elida en la pasada edición del Best of Panama, la subasta donde se venden los mejores granos de café del país./ This is how year after year the prices of specialty coffee grains have broken records currently reaching the amount of USD $1029 per pound for Finca Elida's Geisha coffee in the past edition of the Best of Panama, the auction where the best coffee grains in the country are sold.
8. Deportes / Sports
Para todos los gustos. Panamá tiene una larga tradición en el béisbol y en el boxeo. Los panameños son apasionados por el fútbol americano y clasificaron a la última copa del mundo de fútbol. / For every interest. Panama has a long tradition in baseball and boxing. Panamanians are passionate about the NFL, NBA and they also qualified for the last Soccer World Cup.
Hay pocos lugares en el mundo donde es tan rico hacer deporte bien temprano en la mañana. Caminar al amanecer por el Parque Omar o por la Cinta Costera puede ser una experiencia tan física como relajante. / There are few places in the world where practicing a sport ealy in the morning is so enjoyable. Walking through Parque Omar or the Cinta Costera as the sun rises can be both a physical and relaxing experience.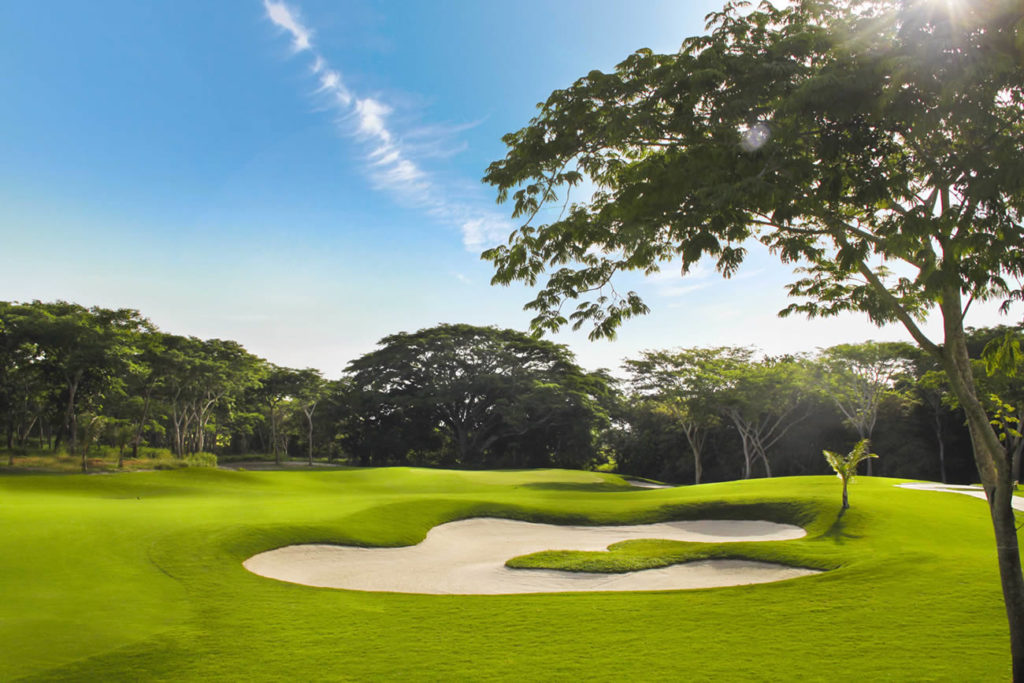 O jugar golf. No hay que recorrer muchos kilómetros desde el aeropuerto  para encontrarse con el primer campo de golf de la ciudad. Santa Maria, el segundo campo diseñado por Jack Nicklaus en Panamá. Con un diseño espectacular, este es la cancha más joven del país, con 7,153 yardas construidas con las mejores especificaciones técnicas que retan al jugador a pensar bastante cada jugada. / Or play golf. You do not need to travel far from the airport to find the first golf course in the city, Santa María, the second course designed by Jack Nicklaus in Panama. With a spectacular design, it is the youngest course in the country, with over 7,153 yards built with the best technical specifications that challenge the player to really think through each play.
Así recibe Panamá a los fanáticos del golf. Pero existen otros diez campos distribuidos entre la ciudad, las playas y la montaña que le permiten al jugador una variada posibilidad de juego. / This is how Panama welcomes golf fanatics. However, there are 10 other golf courses spread throughout the city, beaches and mountains that present a variety of possibilities for the player.
Haciendo honor a su nombre, Panamá es uno de los destinos preferidos para los amantes de la pesca deportiva. En sus aguas se encuentran una gran variedad de peces durante distintas temporadas del año. / Honoring its name, Panama is one of the preferred destinations for sports fishing. In its waters, you can find a great variety of fish during different seasons throughout the year.
O una competencia única como el Gran Fondo Océano Océano, una carrera ciclística que se inicia en el Atlántico y culmina en el Pacífico y cuya última edición convocó a más de cuatro mil ciclistas. / Or a unique competition is the Ocean to Ocean, a cycling race that begins in the Atlantic and finishes in the Pacific. The last edition summoned over four thousand cyclists.
Panamá es el escenario perfecto para cualquier práctica deportiva. / Panama is the perfect destination for any sports fanatic.
9. Mercado Inmobiliario / Real Estate Market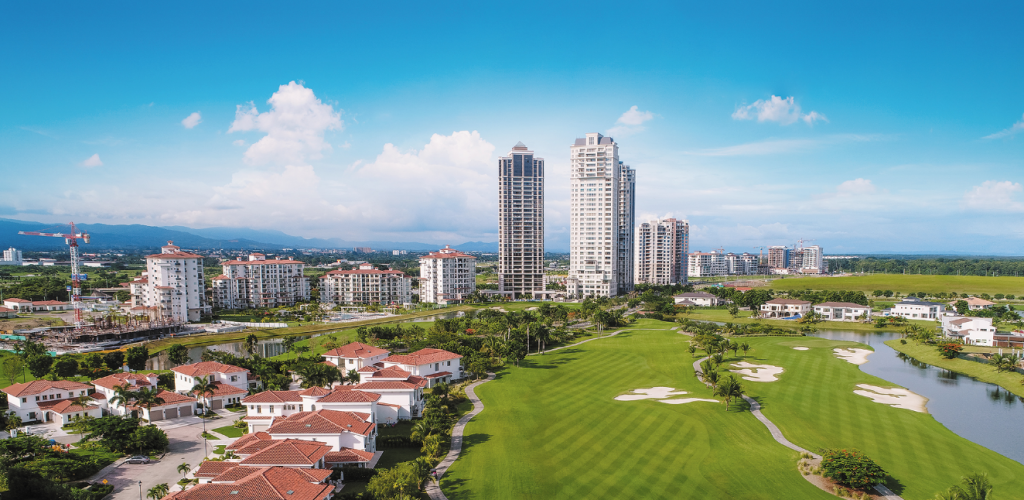 Panamá ha desarrollado un mercado inmobiliario altamente apetecido. Una ciudad moderna, proyectos turísticos de primer mundo y que le da al inversor y a todo aquel que quiera vivir acá, una amplia gama de oportunidades  con los mismos beneficios que el ciudadano local. / Panama has developed a highly coveted real estate market. A modern city with first class tourism projects that provides both the investor and those looking to live here a wide range of opportunities with the same benefits as the local citizens.
Con una economía dolarizada, la inversión inmobiliaria en Panamá es estable y segura. Así como algunos han decidido invertir en sus residencias permanentes, hay otro grupo de extranjeros que, aprovechando los beneficios que el país otorga y su estabilidad, apuestan por la inversión en algún tipo de vivienda a través del llamado 'turismo residencial', el cual se estima, fue de unos 10 mil millones de dólares el año pasado./ With a dollarized economy, real estate in Panama is both stable and safe. Similar to how some have decided to invest in permanent residences, there is another group of foreigners that, taking advantage of the benefits that the country provides and its stability, aim for investing in some sort of housing through what is known as 'residential tourism' which is estimated to have been around 10 billion dollars just last year.
Desarrollos como Santa María, Buenaventura o Santa Mónica, son claros ejemplos de proyectos basados en amenidades con altos niveles de retorno a mediano plazo. / Developments such as Santa María, Buenaventura o Santa Mónica, are clear examples of projects based on amenities with high return in the medium term.
10. Comunidades de 'Expats' / Expat Communities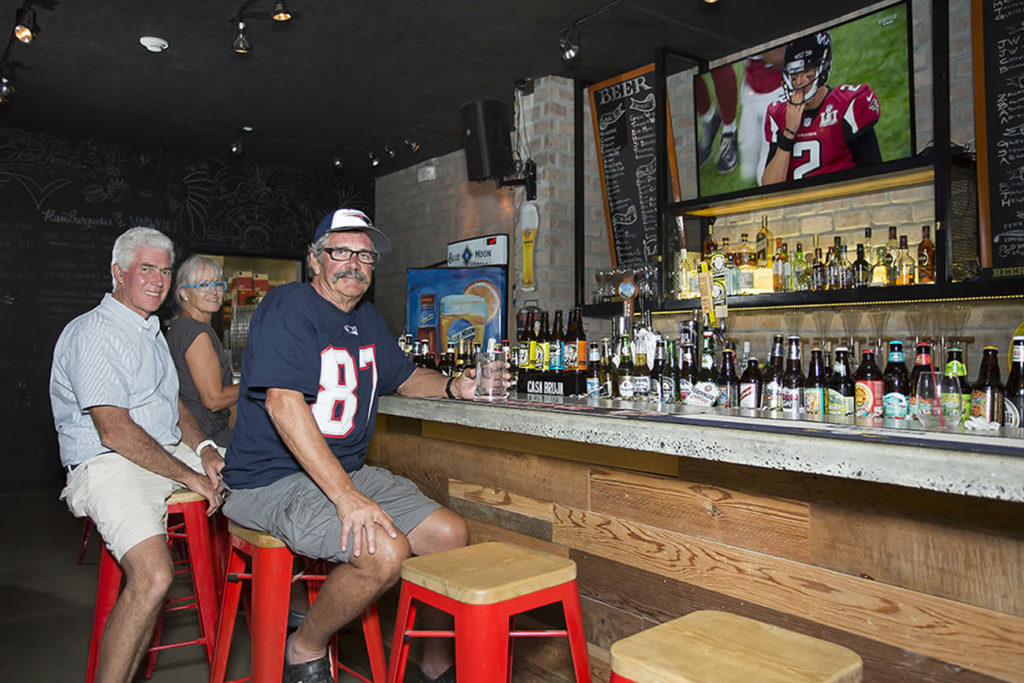 Los 'Expats' han adoptado Panamá como su tierra y es frecuente encontrarlos en ciertas zonas de la ciudad compartiendo con los amigos. Pero además, se ha organizado en distintos grupos y desarrollan diferentes actividades para la comunidad. / The 'Expats' have adopted Panama as their own and it is common to find them in certain areas of the city spending time with friends. Additionally, they organize different groups and plan different activities for the community.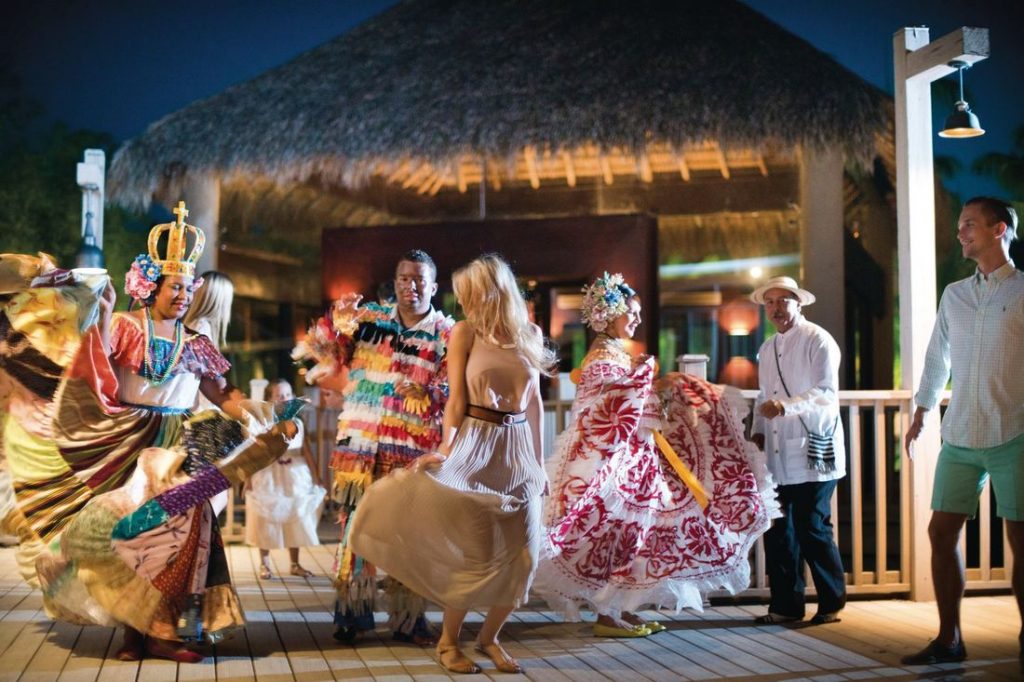 Festivales de música, encuentros culturales, gastronómicos, sociales, son algunas de las actividades con las que Panamá se conecta con el mundo a través de las personas extranjeras que la han escogido como su lugar de residencia. / Music festivals, cultural events, gastronomical and social gatherings, are some of the activities which connect Panama to the world through foreigners that have chosen the country as their place of residence.
Por estas y muchas más razones, Panamá se ha convertido en uno de los destinos de retiro preferidos en el mundo. / For these and many more reasons, Panama has become one of the preferred retirement destinations in the world.
Esta información fue desarrollada por Panamá Living, una plataforma digital comprometida con recopilar, investigar y difundir toda la información positiva y necesaria sobre Panamá, su diversidad y oportunidades. / This information was developed by Panama Living, a digital platform committed to collecting, researching, and disseminating all the necessary information to turn your interest in Panama into a pleasant and enriching experience.